Custom Ornamental Metalwork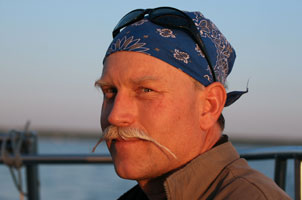 CLASS SCHEDULE AVAILABLE FOR 2024: Click Classes to see the schedule and sign up.
About Jeff Benson:
Maybe it's his mustache. Maybe it's the kilt he often wears. Most likely it's the high quality of his custom wrought iron metalwork. People recognize Jeff Benson, Artist Blacksmith of Benson Designs, LLC for lots of different reasons.
He started building in the Green Bay, Wisconsin area in 1984. He installed solar heating systems, remodeled homes and built new homes. His interests focused on functional art during the 1990's, and his passion for blacksmithing emerged in 1996. Knowing all the different phases of construction helps Benson anticipate what will happen in a new design. He comfortably works with other trades on complex projects with his greatest pleasure coming from custom work. He listens carefully to clients, researches styles and comes up with insightful, bold designs. He naturally combines different media, like metal, stone, glass and wood, constantly experimenting with new techniques to achieve unforgettable results.
Description of Work:
Custom ornamental metalwork. Functional art for businesses and homes, from dramatic forged stair railings to sculptures, furniture, home accessories and architectural elements.
Member:
Art Studio Tour Committee - Past Chair
newARTS (Northeast Wisconsin Arts Council), Past Board Member
UMBA (Upper Midwest Blacksmith Association), Ex Officio and Contributing Author
NEWWG (Northeast WI Woodworkers Guild), Past Officer
ABANA (Artist Blacksmith Association of North America), Member and Contributing Author
GOM (Guild of Metalsmiths), Member
Achievements:
2015 - Judges at the Fine Furnishings Show said table "Off to the Races" is a nice combination of both historical reference and clean lines utilizing simple materials," awarding WI show exhibitor Jeff Benson, the Best in Show - Furniture - Traditional - Single Piece!
2014 - Jeff Benson is one of 90 international artist blacksmiths presented in the beautiful hard cover book, "Ironwork Today 4: Inside and Out".
2013 - "Meet the 'Blacksmith Artist'" - An NBC channel 26 interview with John Maino as part of "The Maino Project."
2012 - "Spiral Staircase for a North Woods Home" - Five-page article about an extraordinary spiral staircase Benson created appears in the Winter 2012 edition of "The Anvil's Ring." "The Anvil's Ring" is a highly reputed trade publication from the Artist Blacksmith Association of America. "Sweet Treats" sculpture selected by Einstein Project as one-of-a-kind sculpture for their Butterflies & Friends on Parade fundraising event.
2011 - "Manufacturing the Future" - A award-winning documentary by Alex Zacarias and Dean Thomas explores manufacturing and its future. It includes significant footage of Benson forging and sharing insights on the creativity required to design the future. The film premiered at the Green Bay Film Festival, and was subsequently aired on Public Television.
2010 - Warren Gerds featured Benson in the Green Bay Press-Gazette as a local artist with an intriguing work space. Benson was commissioned to design and make two sculptural bike racks for a downtown Green Bay development project, called "Park in the Art". Check out the fun film by Josh Beaton which includes footage of the bike racks in use in The Bike Race. "Summer Blooms" sculpture was selected by Einstein Project as a one-of-a-kind sculpture for their Butterflies & Friends on Parade fundraising event.
2009 - A film of Benson was created for the 2009 Butterfly and Friends event for the Einstein Project. Benson provided a one-of-a-kind butterfly for their Butterflies & Friends on Parade fundraising event.
2008 - Multiple projects included the book, "Ironwork Today 2," published by Schiffer Publishing. Einstein Project requested a one-of-a-kind crane for their Butterflies & Friends on Parade event.
2007 - Featured at the Home Expo, sponsored by the Brown County Home Builders Association.
2006 - Dragonfly design selected by the Einstein Project for expansion of their fundraising event.
2005 - Appointed to newARTS (Northeastern Wisconsin Arts Council) Board.
2004 - Featured demonstrator at grand opening of historic Galena Illinois Blacksmith Shop.
2003 - Einstein Project - Chosen to design and coordinate the fabrication of 35 three-foot tall aluminum butterflies. Green Bay area artists decorated the butterflies and they were mounted all around downtown Green Bay. After several months, they were auctioned off, raising over $50,000. The program also won the Mayor's Beautification Award for Green Bay.
2002 - TV Channel 26 aired a special titled, "A Modern Master," a TV investigative portrait of Jeff Benson's blacksmithing work.
2001 - newARTS chose Benson's design, "Dancing with Light" for a public art forged metal sculpture for the city of Green Bay. The 13-foot-tall, 1000-pound sculpture graces the River Walk along the Fox River.
Ongoing:
Benson hosts "hammerins" or "open shops" in the winter at his shop to encourage others to take up blacksmithing. See the Classes tab for more information. He also works with area students and schools to keep the importance of learning to work with one's hands in the curricula.
Education:
Blacksmithing Conferences around the United States
Ozark School of Blacksmithing, Potosi, MO
University of WI, Eau Claire
Redwing Area Vocational Technical Institute